---
Thursday, June 06, 2002
For future reference...

The max size for a picture width is less than 438. When posting picture on top, make it < 438. When i say < 438, i don't mean <= 438. I mean if you do 438, it will make the page unsightly. I'll leave whatever is on already, but just remember that.

I just finished my first co-op interview, i went alright. They found that met their exact requirements. I hope i get the job. It was for pearson's new media section. Web developer and such. They were very nice people.

No, i was not on the DRUGS student hobo stu. The fish sponge clearly had a finer craftsmenship then the hippo sponge. I might just go out and buy the hippo sponge just for you people to see.

Time to study for my music midterm, which is in 5 hours. Remember 438!

The One and Only,


- Guru Mike @ 1:59 PM

---
Hoho

Yup.. thanks. Just took a look at my second year schedule. I got monday/wednesday/friday chem of course. I believe you got screwed over Tom. And also, you should play some warcraft 3.. beta is almost over.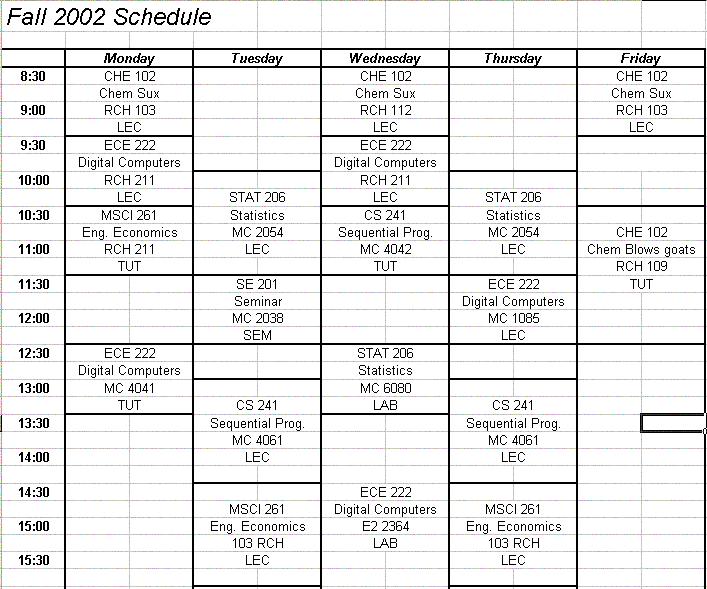 Well here it is. I got this through Puloxor which got it threw someone else. I added the Chem part in.

Check out this tune "Radiation" by Black Sun Empire. Not an extremely new tune but a rough rough little track indeed. Download the MP3 of the week ok? =]

- Backstab @ 11:24 AM

---
Wednesday, June 05, 2002
Whats happening in the world

Hows everyone doing, haven't seen you guys in a while!! Anyways, class schedules are out once again so that starts me thinking about school, then work report, then the thoughs of suicide start, and then I'm lifting the gun....wait back to subject here. Get this, I specifically ask for Monday, Wednesday, Friday chem and I get Tuesday, Thursday, Friday. What the hell is that!!! George what did you end up doing, still going for the good old BIO!! =)

Well the sports excitment still hasn't stopped yet... I wonder if it will!! Soccer has been great, I hate both Carolina and Detroit, but would perfer Carolina to win.

How are things in the big wa wa WU. Mike you should of applied to Leitch, could of tried to get you in, oh well, any interviews?? Have you been successful in avoiding the devil (AKA JW)??

What else is happening, I guess not much, just chilling at work, I'm on the helpdesk phone for the last hour today, so basically that means surf. BTW I have the rest of the smallville season... EP 16-21. If anyone wants them I guess I can throw up the ftp accounts...let me know.

I also have to get on starting to design themarsdens.ca webpage. Jeez, I'm getting lazy in my old age.

EDITED

Another thing is after checking 10 SE's got stuch in the CHEM eng section. Is this to make a weak chem student like me look stupider. I THINK SO!!

TAKE IT EASE (TIE)
- Tom Marsden @ 4:38 PM

---
Tuesday, June 04, 2002
Funny accounts banned on bnet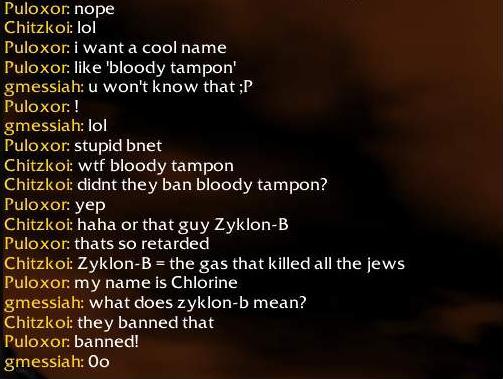 - Backstab @ 11:44 AM

---
Hippo sponge??

Mike, I might say that the fish plan is a bust!! a Hippo Sponge is not only better but the best idea ever!! what were you thinking, where you on "the Drugs"??

4 out of 5 people would get the Hippo over the that darn Fish!!!
- The Student Hobo @ 12:08 AM

---
Monday, June 03, 2002
T-12 Days...

my list was taken from the back of an old frosh week shirt. well before XP, i imagine...we'll see how life goes next year.
i'm fairly certain i don't have to take *any* electricity classes!

is anyone coming to the university life seminar thing on wednesday? should i even bother with that...or will it be totally lame? it is a chance to get out of physics. probably the last chance.
- soufpawed @ 11:23 PM

---
Sunday, June 02, 2002
Beck Hall Report

Well I have been posting alot this week. To top it off, Sunday being the end of the week, i give you, my beck hall report. We already know i can't spell or write in a way that makes sense, so just take every grammer mistake you see. Write it down, and then throw it in the garbage. PS don't ever mention the mistake to me. I'm supposed to be studying for algerbra but i made the report instead. It's been 4 months since my last article. So I'm a little rough around the edges still. I was going to put together a picture gallery, but forget it, just read the report. Enjoy

The One and Only,
- Guru Mike @ 9:35 PM

---
---
---
PP Awards 2002!!!

PP Awards 2001
---
Backstab Recommends..

City of Heroes (PC)


---
---
Backstab's Music Picks

1. C4C - Seawolf
2. Arqer and Realtime - Believe
3. Rob F - Primal

Top 10
---
---
Liston's Music of the Minute
"Love Like This Before (Remix)"
- Faith Evans
---
GURU MIKE'S ANSWER
What the questions is, is still a mystery.
It is time to get drunk
and get
fleur-de-lis tattoos
---
Etheral's Quotes
Of the an undetermined amount of time.
Do you think the townspeople will ever find Hamster Hueys head?.
-Calvin-
Yes. I will personally purchase you Hitlers car.
-Alyssa-
I will shit well tonight!
-Slave from Just Visiting-